About Us
The history of Wigginton Fields Farm
Richard Calcott has farmed at Wigginton Fields Farm since 1980. He started at the age of 16 years with 100 turkeys selling to local people along with farming beef cattle, sheep, arable and agricultural contracting.
He has gradually expanded the turkeys over the years to 2000 turkeys today, supplying farm shops and butchers.
In 1992 he got married to Deborah and three boys were born in the 1990s Edward, William and George.
He built a house on the farm and new buildings were built in 2004 which are purpose built for the rearing the Traditional Farm Fresh Turkey.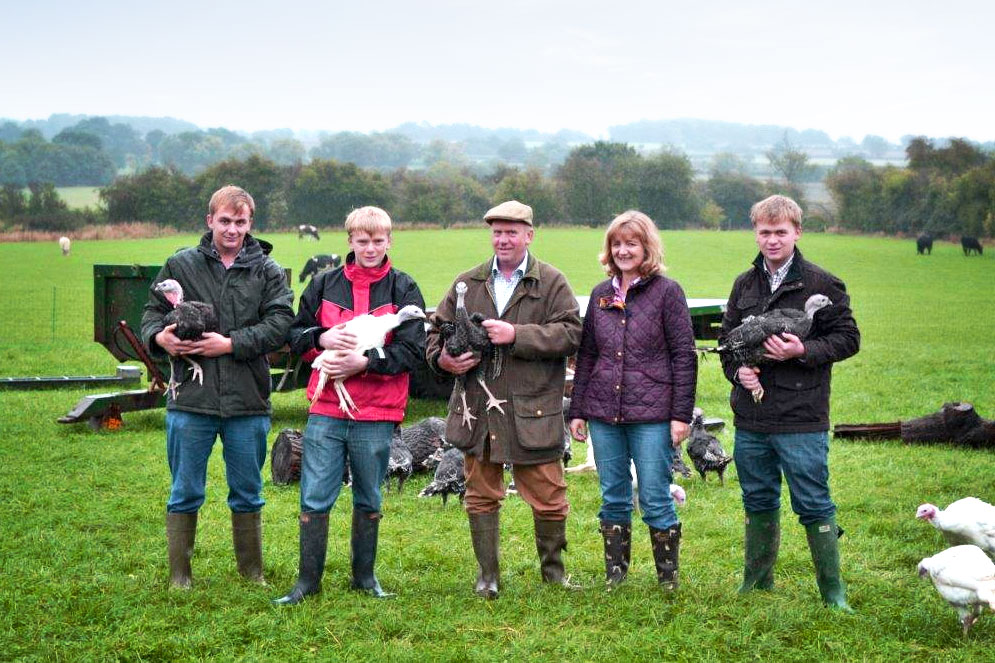 Conservation
The farm is in a HLS (Higher Level Stewardship Scheme) which means that we are constantly striving to work with the environment and natural habitats for wildlife.
The 6m grass margins provide feeding areas for owls and other wildlife.
We have floristically enhanced field margins to provide foraging for insects and birds.
We have established ponds for frogs and newts.
We have many hedges on a 2 yearly and 3 yearly cutting basis so there is a constant bird feeding area. This is used to support species of farmland birds, insects and mammals such as the tree sparrow and the dormouse etc.
We have a low input grass management for extensive grazing along with some over-winter stubble fields for a feeding environment for different bird species eg lapwing.
We have historic value of the old undulating fields.
We are reducing our carbon footprint and are aiming to become energy self sufficient with solar technology.
We harvest rain water off the sheds which is re-used